RATING: ⭐⭐⭐
Warning: The content below contains minor spoilers for the film.
It's safe to say I was pleasantly surprised by this film. I went into the theater expecting Jumanji to be another 'piece-of-crap' blockbuster banking off nostalgia, but it wasn't. It's still a raunchy comedy with the corny duo of the Rock and Kevin Hart, yet it's still actually funny.
Jumanji: Welcome to the Jungle is the sequel to the 1995 film Jumanji, which tells the story of a cursed board game that holds real life consequences for its players. The same ensues for it's next players: Spencer, Bethany, Fridge, and Martha. However, Jumanji is no longer a board game, but instead a video game. After choosing their respective characters, the four are sucked into the world of Jumanji and must complete the game as the characters they've chosen.
My main fear for the film was for each of the comedians to use their same 'type-casted' humor, but I was surprised yet again. While the Rock was playing his average beefcake, he's also playing Spencer, a teenager who's afraid of pretty much everything. So the Rock gets to play both roles to his advantage.
I'd say the best running joke was Bethany, a phone-obsessed teenage girl, being stuck in Jack Black's body. The gag was hilarious, with great physical and verbal comedy coming out of it. Also, I really appreciated the joke on how ridiculous female character's outfits are. I have been asking myself who would wear a crop top and shorts on an adventure since I was born.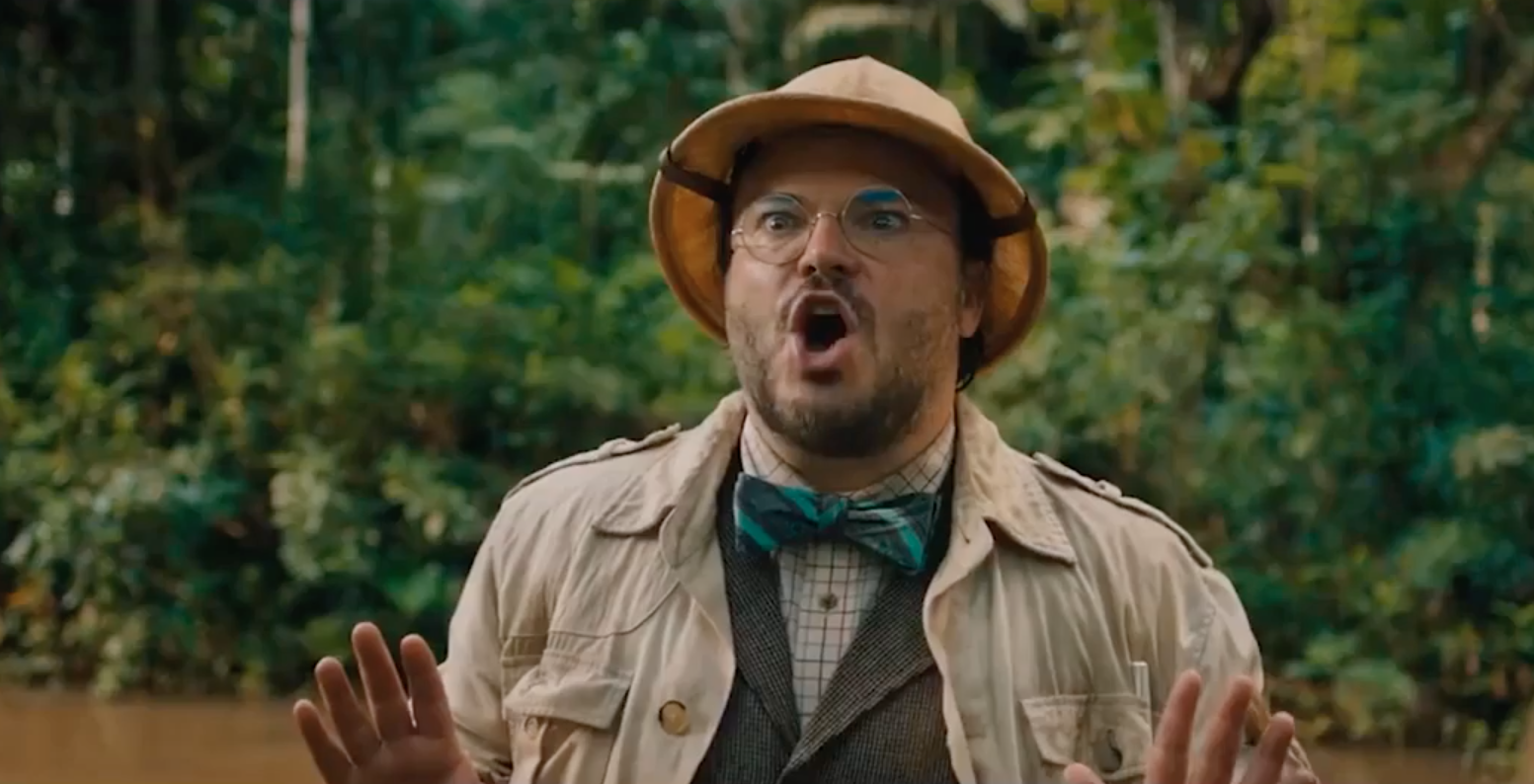 However, I was disappointed by Kevin Hart's character. His comedy was very different than usual. As always, his one-liners centered around his height and him being black. Sure, it was funny, but he really could have brought more to the table. Karen Gillan was great too, but her talent was overpowered by star-power .
Other than that, the plot was engaging and easy to follow as it was deconstructed into levels of the game. Smartly, the film mocks the 90's style of gaming (Dance Fighting?) and gaming in general. For example, they all have three lives and magically spawn from the sky when they perish. It feels like one long cut-scene for players to follow along, as it cuts between the reality of the characters stuck in Jumanji and the 'reality' within the game.
Stunningly, it doesn't play too much on nostalgia with the original 1995 film. It's very much a stand alone installment, picking up right where the last film ended, but goes in a completely different direction with different characters. Other than a homage to Alan Parrish, the film doesn't really acknowledge the previous film. Jumanji is modernized for audiences, especially with it's upgrade to video game instead of board game, so it make sense for the film to be a stand alone blockbuster.
The film is overall enjoyable and definitely a film to watch with friends or family. I gave it 3-Stars because it's a smart and self-aware film. It knows what it wants and needs to be, achieving both stupendously. While it's not a perfect film and will not win 'Best Picture' of 2017, it's not bad. The theater was packed during my showing and the laughter never stopped. Afterwards, you could tell that everyone really enjoyed it. Jumanji: Welcome to the Jungle is the film to watch for a fun movie night out.